Semi-Dry Fullsuit w/ Separate Hood
·6.5mm Nylon Ⅱ neoprene
·3.0mm smoothskin external neck opening
·Double cuffs at the wrists and ankles-the inner cuff is in 2.0mm SCS, with zippers
·Supratex on the knees and elbows
·Wateproof TIZIP closure runs from shoulder to shoulder with a zipper cover
·Glued and double-lined blindstitching outside
5.0mm Hood
·5.0mm Nylon Ⅱ neoprene with interior glideskin along the outline of the face and on the chin and mouth area
·Carabiner clip for the "Hood Holder"system on the one-piece suit
·Glued and double-lined blindstitching outside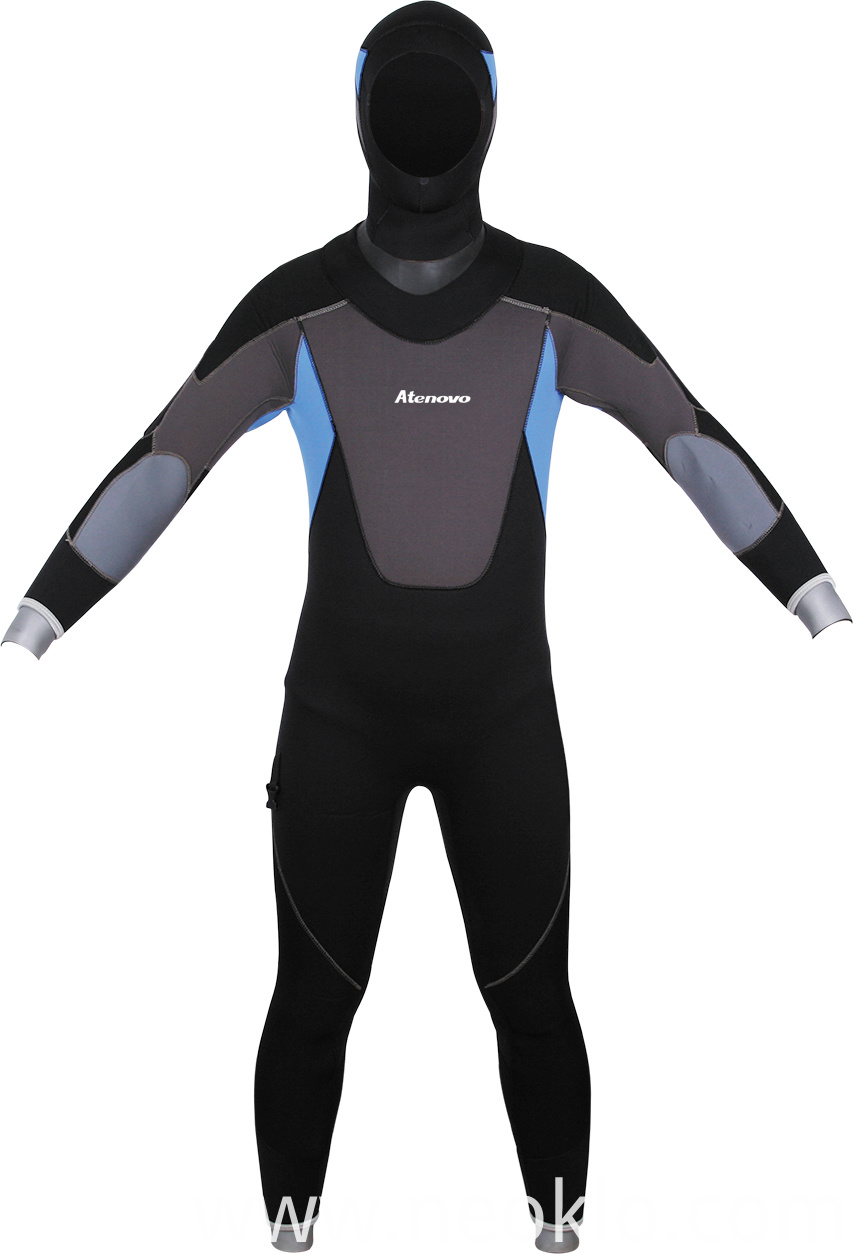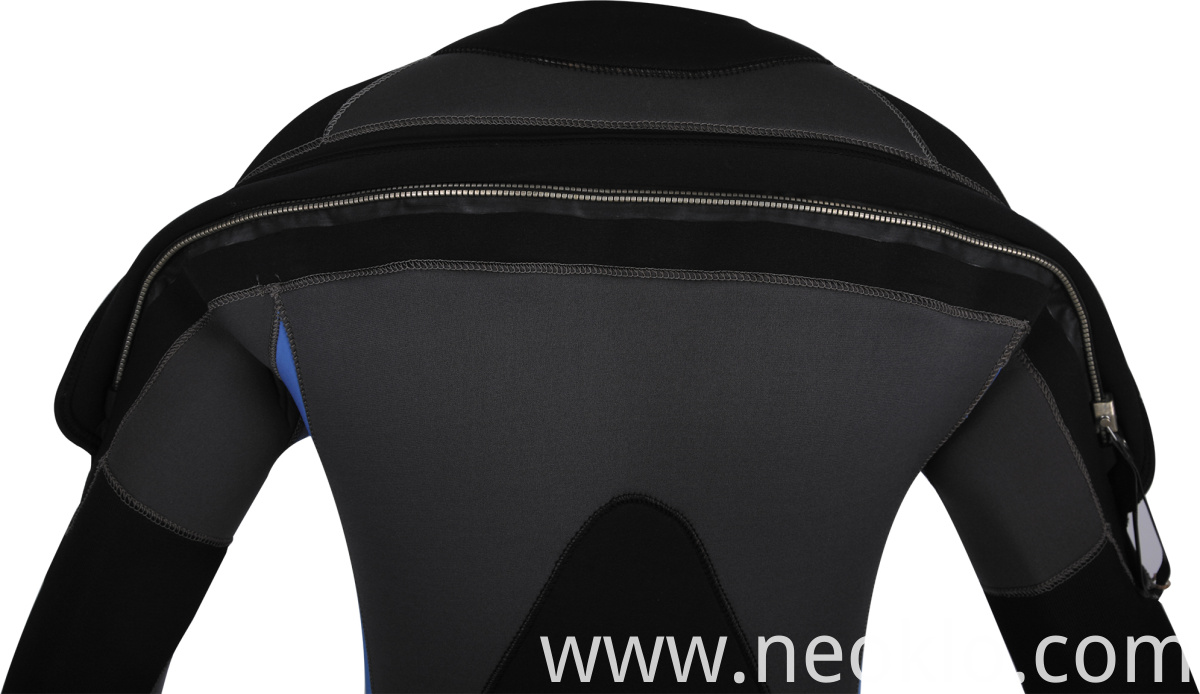 What is a Semi-Dry Wetsuit?
A standard neoprene wetsuit works by trapping a layer of water between your skin and the neoprene, which is then warmed by your body heat. This, combined with the insulating properties of the neoprene, slows your body's heat loss during the time you're in the water. However, due to a variety of factors, including non-watertight seals and a less than perfect fit, when you're at depth taking photos, exploring a wreck or just swimming along sightseeing, the water in your suit tends to get displaced by new water, which also has to be warmed by body heat. This "flushing" action varies in frequency, but every time your body has to heat a new layer of water, your heat reserve is diminished, and it becomes harder and harder to ward off the cold.

A drysuit, in contrast, works by keeping you completely dry. The suit, either neoprene or a trilaminate fabric blend, is in essence a shell that blocks water from coming in contact with your skin. Between your skin and the drysuit a layer of air is trapped. This air is warmed by your body heat, and combined with the wearing of thermal undergarments, provides your thermal protection. Since air is much easier to warm than water, wearing a drysuit minimizes your body's heat loss.

At first glance, a semi-dry wetsuit looks virtually identical to a standard wetsuit, but upon closer inspection you'll notice that its wrist, ankle and neck seals are much closer to what you'd find on a drysuit. While not designed to completely block water entry like on a drysuit, these seals radically reduce the amount of water that can enter the suit.

A quality semi-dry wetsuit will also often employ a waterproof "dry" main zipper, the same kind normally found on drysuits. When combined with the sealing system, this creates a dive suit that still allows a very thin layer of water to enter to be warmed by the body, but that demonstrably minimizes the amount of flushing action that occurs due to the suit's superior sealing properties. Less flushing action means the body doesn't have to continually heat up new water, which means less heat loss over the course of a day's diving. So you end up getting all of the benefits of a wetsuit – fit, comfort, range of motion, minimal hydrodrag, with sealing benefits that more closely resemble a drysuit.
What are the Advantages of a Semi-Dry Suit?
There's lots to be said for diving in a semi-dry suit. As previous stated, while not completely dry, these dive suits are substantially drier than a traditional wetsuit. They are easy to get in and out of, extremely comfortable, and they're form-fitting for minimal hydrodrag.

The secret to a good semi-dry suit can be found in its seals and zipper. The higher quality the sealing system, the less water intrusion, and the more thermal warmth.
Looking for ideal Neoprene Diving Wetsuit Manufacturer & supplier ? We have a wide selection at great prices to help you get creative. All the Neoprene Semi-Dry Fullsuit are quality guaranteed. We are China Origin Factory of Double Cuffs at the Wrists&ankles. If you have any question, please feel free to contact us.